Close out festival season with Jibberjazz Productions!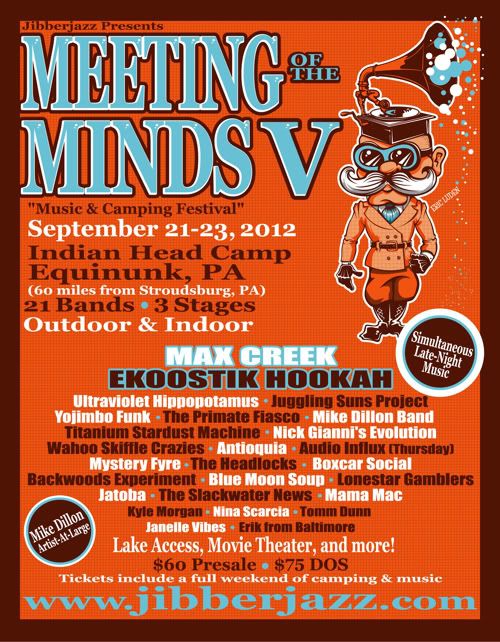 Jibberjazz Presents
MEETING OF THE MINDS V
"Music & Camping Festival"
September 21-23, 2012
Indian Head Camp
Equinunk, PA
(60 Miles from Stroudsburg, PA)
21 Bands* 3 Stages *Outdoor & Indoor
$60 Presale * $75 DOS
Tickets include a full weekend of camping & music
NO DOGS AT THIS VENUE!
http://www.jibberjazz.com
FEATURING:
MAX CREEK
EKOOSTIK HOOKAH
Mike Dillon Band
Ultraviolet Hippopotamus
Juggling Suns Project
Yojimbo Funk
The Primate Fiasco
Nick Gianni's Evolution
Titanium Stardust Machine (Feat. members of The Big Dirty)
Wahoo Skiffle Crazies
Antioquia
Audio Influx (Thursday)
Mystery Fyre
The Headlocks
Lovanova
Boxcar Social
Backwoods Experiment
Blue Moon Soup
Lonestar Gamblers
Jatoba
The Slackwater News
Mama Mac
Kyle Morgan * Nina Scarcia *Tomm Dunn * Janelle Vibes* Erik from Baltimore
http://www.jibberjazz.com
MEETING OF THE MINDS V:
a full weekend music & camping festival, featuring 21 bands, 3 stages, lake access, kids activities, simultaneous late-night indoor music, solo artists, light shows, food & craft vendors, fire performances, parades, yoga, workshops, movie theatre and more.
MOTM VENUE:
a 300-acre, private campground featuring: lake access, plenty of room for camping, outdoor & indoor stages, hiking trails, tennis/basketball courts, restrooms, showers, limited RV electric etc.
MOTM MUSIC:
Jibberjazz will showcase a variety of musical styles including Jam, Folk, Funk, Bluegrass, Blues, Rock & Roll, Reggae, Americana, World, Jazz etc. Artists drawn from all corners of the USA!
MOTM TICKETS:
Presale tickets are $60 and include a full weekend of camping & music. All events are B.Y.O.B. for those of age.
Since 2005, Jibberjazz festivals have drummed up a buzz in the underground by showcasing a truly diverse musical-lineup that blends heavy-hitting out of market bands, national acts, and up-and-coming regional talent. These festivals have developed a dedicated fan base in the region and continue to grow in intensity and attendance, season after season. That trend will continue into 2012 and beyond, as we continue to produce 3 music & camping festivals per season. Creative line-ups, killer music, and good people are what Jibberjazz is all about. Now let's get to wild dancing!
Stay tuned for more 2012 Jibberjazz events and please forward to friends!!
http://www.jibberjazz.com